ABOUT AKHA HILL HOUSE





TOUR GUIDE SERVICE



Akha Hill Package Tours



HOW TO GET THERE



THINGS TO SEE & DO



FACILITIES



EDUCATION PROJECT

PHOTO GALLERY
And Happy Guests



Akha Hill Tribe Story



Branch Akhahill in city



Comments about us
CONTACT US
IS THAILAND SAFE?
To contact us :
Mobile:

(66)08-9997-5505

Email :
3 Days 2 Nights Trekking
01 May to 31 October. Start from Chiang Rai

Day 1:
The tree days program - Jungle and Elephant Trekking
Departs from Chiang Rai Boat station in the morning at 10:30am.so we have to pick you up 10:00 am from your Hotel
Day 1: we take the boat on the Mae Kok river to the Karen Hill Tribe Village. Elephant ride half hour around the Karen Village, then walk around the
Karen Village to see 3 different tribe people and then to the Hot Springs where you can swim then will have an enjoyable lunch before moving
on to visit a Lahu and Akha village where you will stay for the night. There, you can swim in a refreshing waterfall.

Day 2:
starting from the Akha Hill House, one of the only traditionally sited
Akha villages left in Thailand, set high on a steep mountain ridge overlooking a magnificent valley,
you will trek though some of Thailand's most beautiful scenery.On the trek you will carry a traditional
long bladed jungle Knife, with which you will be taught how to make everything you need for your
evening from bamboo. Chop sticks, cups, plates and the bamboo in which you will cook your rice,
that days catch from the river, plus the jungle herbs & vegetables.At the overnight camp you
will learn how to catch fish, crabs and prawns by building a small dam in the mountain stream -
a technique of the mountain people, That night you will build a banana leaf shelter where hopefully
you will sleep soundly after a most interesting and rewarding day.

Day 3:
after breakfast, you will trek through a high mountain valley, visit hill tribe village
and then bamboo cooking in the jungle
After lunch, we visit a Lahu and Karen villages. Then we catch a songtaw back to
Akha Hill House or Chiang Raiaround 4 or 5 pm. Trekking about 5 hours.

We start from 2 people
5,000 baht per person
3 people 4,500
4 people 4,000
5-6 people 3,500
7-10 people 3,300
This price Including 2 nights accommodation, Elephant ride
Boat trips, foods, coffee and tea.Swimming at hot spring Transportations,
English speaking guide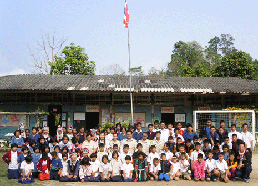 The Akha Hill House
Jungle trekking or Hill tribe Trekking .All in come
supports the Akha Hill tribe Education Project
10% of Guesthouse profit are donated directly
to the school project.

Booking contact Mr.Apae Amor Mobile: (66) 08-9997-5505
éééééEmail : apaehouse@hotmail.com